Over the last year, Walgreens has been innovating through its store formats, matching product and merchandising often unexpected from a drug store chain to local demographics and store locations. That strategy has led to 160 different planograms ranging from a location in Chicago's tough South Side where a nurse practitioner can administer HIV tests, to another in Brooklyn that has a bar backed by a wall stacked with beer growlers, a testament to Brooklyn's entrepreneurial craft beer makers.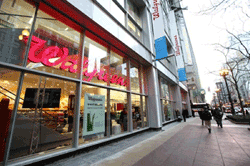 Retailers are adapting the strategy finding that customizing and localizing product assortment, services and store design on a local level is working.  Joseph Magnacca, the president of daily living products and solutions for Walgreens calls it "differentiation through mass localization and being relevant to customers in every market by having the right assortment and presentation of items." The idea is to transform Walgreens' stores from traditional drugstores to retail health and daily living destinations for people who live and work in the communities.
As an example, he talked about two stores—separated by just two miles—located on the same street in Chicago.
The neighborhood of the first store, a Walgreens on 75th Street and South State Street, was a "food and medical desert." Fast food was a mainstay. The locals there are predominately African American and include the largest senior population in Illinois. There is a prevalence of diabetes and HIV, he said today at the Shopper Marketing Expo.
To address those specific needs, the retailer offers hundreds of fresh food items including produce and high-quality, on-the-go meal options such as wraps, sandwiches and salads made fresh daily.It also provides a number of specialized services including nurse practitioners that can administer HIV tests and see patients in the stores for treatment and advice.
[via Chief Marketer]