The holidays are right around the corner and Gaga's Workshop at Barneys New York is officially open for business. The Lady has taken over the whole store!
The singer's latest enterprise, a Christmas menagerie in the iconic store's Upper East Side flagship location, is essentially 5,500 square feet of pure Gaga.
How else can we describe displays like this …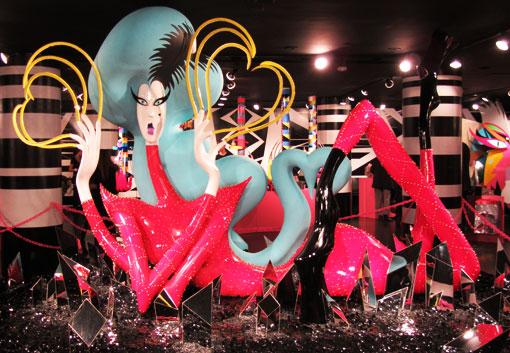 From a wig-shaped boudoir to colorful snake statues that double as clothing racks, "We wanted it to be whimsical and fun, with a sense of art and fashion," said Gaga.
The 25-year-old "Born This Way" singer, the hardest working woman in show business, took the time to design the entire shop with her stylist Nicola Formichetti.
The shop also sells stuffed animals, books Gaga read in her childhood, and an exclusive jewelry line, a collaboration with Erickson Beamon, which donates 25 percent of all the proceeds to Gaga's newly-created Born This Way Foundation.
Definitely worth stopping by if you're in NYC this month and next.
[via TheHollywoodGossip.com]